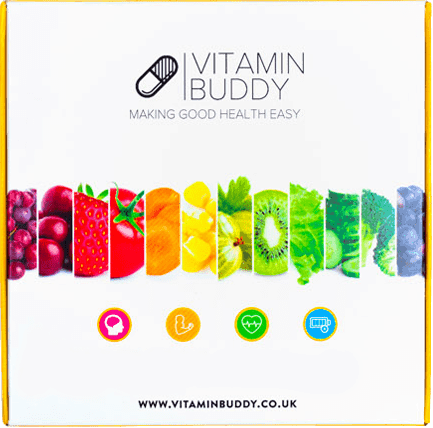 Find out what vitamins your body really needs. 
VITAMINS MADE FOR YOU
At Vitamin Buddy we are all about making health easy and helping you get the vitamins you need to feel you that tiny bit healthier, happier and energetic. Don't waste your money on supplements you think you should take and stop having bottles of vitamins laying around in your kitchen or bathroom.
Our flexible monthly vitamin subscriptions are personalised to your lifestyle and health goals. Simply take our free lifestyle quiz, get a vitamin plan tailored to your needs, select one of our flexible plans and wait for our box to arrive at your doorstep. It's as simple as that. Why not give it a go out and start by taking our free quiz?
OUR VITAMINS
We don't like junk and neither do you. That's why there are absolutely no nasties in our vitamins.  






Vegetarian Society Approved
HOW DOES VITAMIN BUDDY WORK?
Vitamin Buddy is your monthly dose of vitamins, delivered directly to your doorstep. No need to go out searching health shops for the best supplements. Our monthly subscription service is tailor-made to your lifestyle and needs, it's as easy as pie plus super flexible. Because we know you are too. It all starts with our free lifestyle quiz.

At the end of the quiz we will recommend you your free personalised vitamin plan optimised for your lifestyle and health goals. You then have the option to choose from a selection of flexible subscriptions plans.



Receive your subscription. Once you've chosen your plan, you'll receive 28 handy, daily vitamin packs through the post once a month. Easy peasy, without leaving your house (or desk). The best bit? All our vitamins are free from nasties: no gluten, no artificial fillers and no additives. They're also vegan friendly and approved by The Vegetarian Society. Just good health, made simple.

MEET THE EXPERTS BEHIND VITAMIN BUDDY
We've put together a super team of experts, all with a passion and experience in health & nutrition. They're all here to help you on your journey to better health.
OUR VITAMIN BUDDY BLOG
Health and lifestyle tips & tricks, delicious and healthy recipes, guest blogs, discounts and more. 
READY TO BECOME HEALTHIER?
Take our free quiz today for your personalised vitamin plan