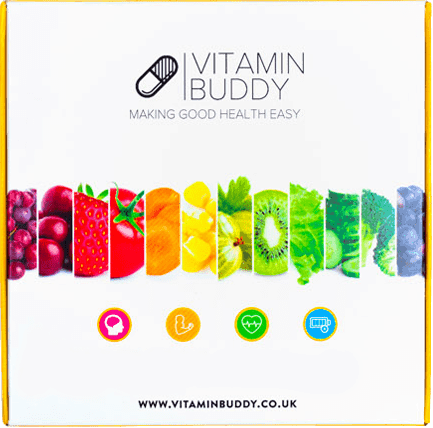 Personalised Vitamin Plans
on Subscription Made Just for You
ABOUT VITAMIN BUDDY

We're on a mission to get you the vitamins that are right for you…
After all, you are all different. You don't all eat the same, live the same, or look the same. It makes sense that you need a mix of vitamins that's as unique as you are.
Our leading team of pharmacists and nutritionists have designed The Vitamin Buddy™ Questionnaire to work out exactly what vitamins your body needs to be on top form. Then, we'll send high quality vitamins direct to your door every month in handy, daily packs. It's as easy as that.
HOW DOES IT WORK?
Our subscription service is tailor-made and as easy as pie.



Receive your subscription. Every 4 weeks, you'll receive 28 handy, daily vitamin packs through the post. All our products are free from nasties: no gluten, no artificial fillers, no additives, vegan friendly, and approved by The Vegetarian Society. Just good health, made simple.
MEET THE EXPERTS
We've put together a super team of health and nutritional experts who will help you on your journey to better health
OUR VITAMINS
We don't like junk and neither do you. There are absolutely no nasties in our top quality vitamins






Vegetarian Society Approved
READY TO GO?
Take the quiz today for your personalised plan
BLOG
Tips, tricks, recipes, and more from our resident experts