Vegan Meringue Recipe
Being a vegan can sometimes be a bit of a barrier when it comes to gorging on delicious desserts as when it comes to baking, eggs is usually a key ingredient. If you saw our other blog on the vegan egg replacement, aquafaba, you can use that to make this delicious vegan meringue!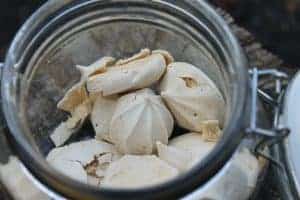 Ingredients:
Water from one tin of chickpeas.
Half to 3/4 cups of sugar
That's it!
Method
Whisk the chickpea water with electric whisk at high speed until the liquid forms stiff peaks.
Slowly add in half to 3/4 cup sugar, according to taste, until mixture is glossy and thick. Just like an egg-based meringue, you should be able to turn the bowl upside down over your head without anything dripping on you!
Spoon onto parchment paper and place in a preheated oven at 100 degrees C for 90 minutes. After this time, turn off the oven and leave the meringue to cool inside.
Now you can make all sorts of indulgent treats for the vegetarian/vegan in your life (and yourself) without any extra fuss whatsoever!